Live-tweeting interactions between strangers certainly isn't anything new for Twitter. In fact, some of the most entertaining threads of all time have involved eavesdropping on conversations. However, there's a big difference between recording what people say and photographing them/giving the internet clues as to their identities.
Recently, blogger and actor Rosey Blair documented a meet-cute she witnessed between two strangers on a plane. The charming story of apparent blossoming romance in the most unlikely of situations caused Twitter to fangirl almost immediately.
— Rosey Blair (@roseybeeme) July 3, 2018
"After we had settled into our seats, I made a joke about who her next seat partner would be," Blair told BuzzFeed at the time. "I thought it would be funny if it was a handsome man. And then — like magic — a handsome man appeared."
The thread went viral,eventually sparking the #PlaneBae hashtag.
The man, who was later identified as Eun Holden, got plenty of flattering publicity from his sudden celebrity status. However, he eventually took to Twitter to remind everyone to respect the privacy of his unidentified female passenger friend.
????❤✈ pic.twitter.com/PqV70zQi5Z

— Euan Holden (@EuanHolden) July 5, 2018
Of course, the internet, being the internet, did not heed Holden's instructions and proceeded to track down the woman and her social media accounts.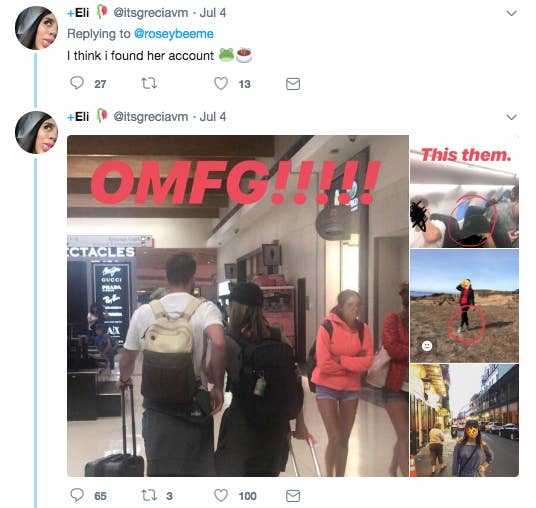 Blair later filmed a video update letting her followers know that the woman in question had not given her permission for her identity to be revealed. "
We don't have the gal's permish yet," 

Blair said, then winked and added "

But I'm sure you guys are sneaky."
Y'all were asking about pretty plane girl pic.twitter.com/cdAMD8BjnF

— Rosey Blair (@roseybeeme) July 4, 2018
Unfortunately, people began doxxing the woman from the story and harassing her, eventually causing her to delete her Twitter account.
People began to criticize Blair and her boyfriend for shamelessly exploiting a pair of strangers for their fifteen minutes of fame (which, considering the fact that Rosey apparently tried to parlay her internet celebrity into a job offer at BuzzFeed, may not be too far off the mark).
hey @BuzzFeed I'm looking for a job, I hear that job allocations are v. competitive right now w/ @roseybeeme also applying, however, unlike my competitors i have NO experience in invading people's privacy and ruining their lives, and i feel like this makes me an ideal candidate

— Carpe DiMeans ☭ (@oddbrad) July 9, 2018
Blair later posted to Instagram, obliquely addressing the incident and attempting to justify her Twitter thread by saying she simply "believed in the possibility of magic in the minutiae of everyday life."
"I am a plus size woman and for years I believed dating and love were experiences that simply wouldn't happen for me," she wrote. "I was proved wrong. I had (and very truthfully still have) quite a few chips on my shoulder but experiencing a love free from judgment has changed my life. This love came from myself and also my beautiful boyfriend. I hope that many of you are inspired by the story I shared. Sharing this story has also made me reconsider some of the thoughts of negativity I too have been guilty of putting out into the world. If you have been feeling low, I hope you are reinvigorated to serve yourself and those around you some much needed cheerfulness. I'll be attempting to do the same. If you need me for some laughs, and some inspiration — I'll be here doing my silly thing."
Blair has yet to respond to respond directly to the accusations of exploitation.